Madhya Pradesh Tourist Dept Hotels
on
August 9th, 2011
at
3:44 pm
We've stayed in a couple of Madhya Pradesh Tourism Development Corporation's hotels in our time in the state. We had very nice experiences of both so I'd thought I'd put up a little info about them.
It seems that MPTDC sets a stand tariff for their hotels and a standard A/C double room is Rs1990 per night, that's about £28. Extra beds run at Rs300 each, which is just over £4.
The first one we stayed in was the Tansen Residency in Gwalior which initally we thought was run down and in need of some repainting. It was clear that not only was the management good and well organised that the whole experience was very relaxed. A good example of this was when I asked if they had an internet machine I could use and they directed me into their office to use one of their machines, the one that contained all the booking information and spreadsheets on it. We ate at their restaurant and had an enjoyable meal there, without any after-effects, so they clearly run a clean kitchen too.
After Gwalior we stayed for two nights at the homestay but had to find a hotel for our third night in Orchha so we headed straight to MPTDC's Betwa Retreat without the bat of an eyelash. Its location is good with views from its restaurant terrace of the Betwa River which is only 50 metres away. We'd previously eaten a meal at MPTDC's other hotel in Orchha, the Sheesh Mahal, which shares the same menu as the other two hotels and I presume all MPTDC hotels and thought of staying there too but the views just weren't as good.
The Betwa Retreat is a lovely hotel, made so much better by the employees who are very cheerful, efficient and chatty. The hotel has a swimming pool which the kids loved and with room service extending to poolside service we enjoyed an enjoyable lunch after a good swim.
At one point I asked again about using an internet as was directed to the Senior Manager, M.S.Rana. When I asked him about using the internet he just said "wait one minute" during which he closed his applications turned round his laptop and said "there you are Sir", at which point he walked out and left me to it, in his office – I can't imagine this happening in England.
We ate a few meals in their restaurant and it was good value, tasty and always served with a smile. The waiters and us enjoyed a good few chats about England, Malaria, monsoon and especially cricket although they couldn't understand why I didn't like it.
Rather than have a cottage room we opted for the more luxurious air conditioned tent. It's a tent in the loose sense that you are actually surrounded by canvas, but it has solid walls between the bedroom and the bathroom and storage room; there's a decent bathroom and the bedroom has a very efficicent a/c unit. Outside there's a canvas covered terrace, which houses some chairs and in front there was the pool only metres away. Not bad for £28 a night.
Whilst we absolutely loved the homestay it was great to move to this hotel as we were sad to leave the homestay but coming to a nice hotel made the transition easier. So much so that we were then sad to leave this place.
On the whole I can't hesitate to recommend especially the Betwa Retreat in Orchha but also any of the MPTDC's we've either stayed in or eaten in.
Here's some photos although unfortunately my memory-card with the tent photos on it has crashed so there's none of the A/C tent.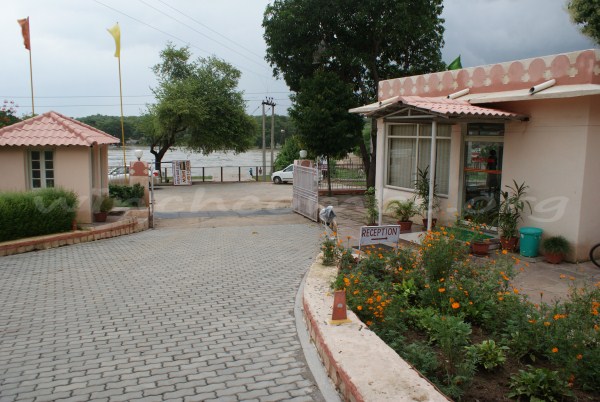 Betwa Retreat Hotel reception overlooking the river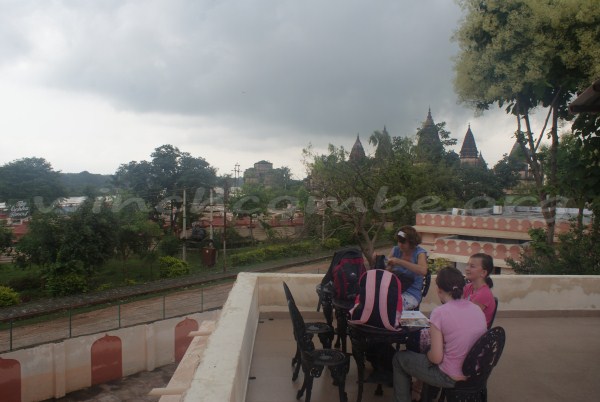 The terrace at the Betwa Retreat, under a darkening monsoon sky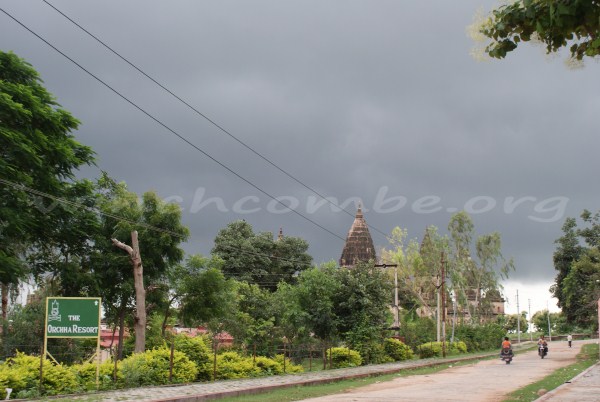 Outside the hotel the impressive cenotaphs are not very far away