Amy: Lakshmi the Elephant Having A Wash
on
August 19th, 2011
at
7:41 am
This morning we had a great experience: we went to the bathing ghats to watch Lakshmi the Elephant from the nearby temple have a wash and a good scrub.
At 7am I got woken up by the sound of Daddy's voice, he was saying to get clothes on quickly so we could go and watch the Elephant have a bath and it possibly started at 7:30a.m. but we didn't know, in fact no-one knew.
We walked to the river to wait for the event to start but we didn't even have a clue where. So we didn't know what time it was, or where it would be, but we knew it would happen somewhere, somewhen.
Eventually we found where it was due to happen but we still had an hour to wait, I could have had so much more sleep!
Someone told us that Lakshmi was coming out of the temple soon so we went to investigate and found Lakshmi. He – or was it a she? – was colossal and towered above me. At first I was scared to touch him in case he stepped on me but gradually I overcame my fear and followed Emilia's lead.
Lakshmi moved off towards the ghats – which are steps that leading down to the river and below the waterline and people wash there – and walked down the ghats to the river below.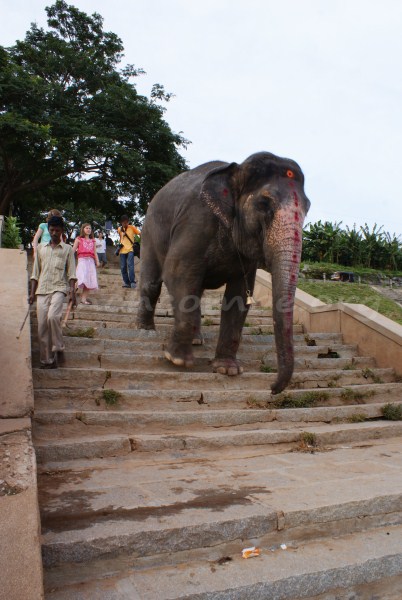 Lakshmi walking down to the river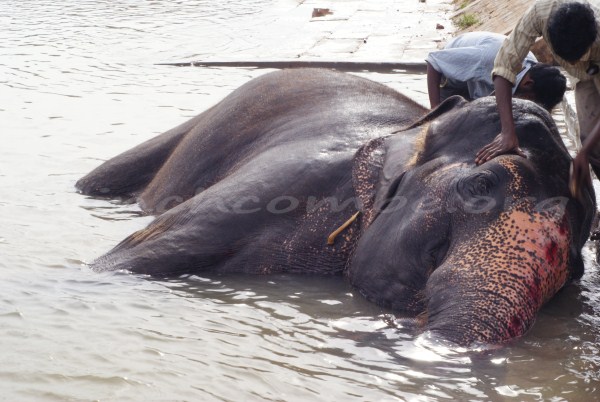 Lakshmi being washed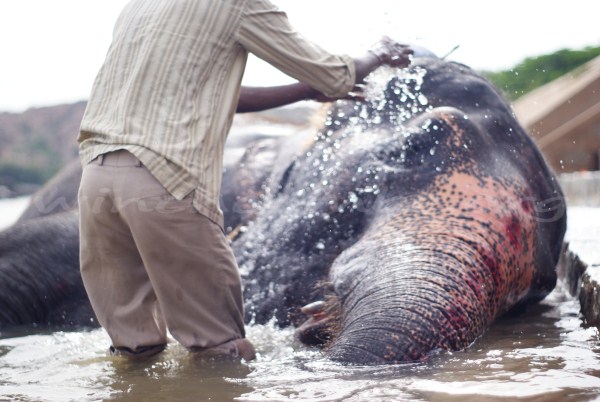 The Mahout gets to work
He then laid down as his Mahout – the name of an elephant keeper – directed him. His Mahout and a helper then scrubbed and scrubbed Lakshmi, giving him a bath that he enjoyed tremendously.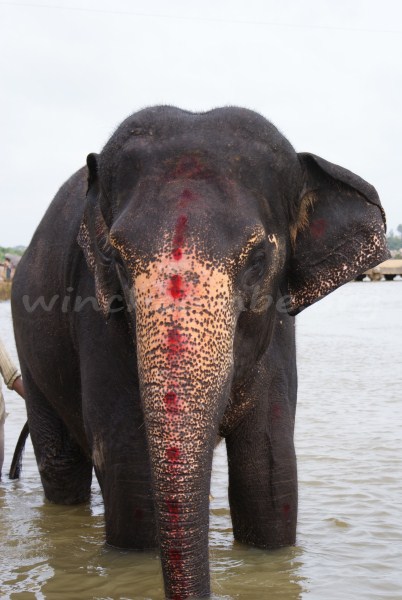 A clean Lakshmi
Here's a video:
httpv://www.youtube.com/watch?v=pf24ZMD5K1Y