Kesar da Dhaba Restaurant, Amritsar
on
August 4th, 2011
at
6:18 am
Kesar da Dhaba is a low-key restaurant and a hidden gem in the dark, narrow backstreets of old Amritsar town. I don't know the true meaning of 'dhaba' but in my view they seem to be places that are for the locals, have a fast turn around of food and generally offer food the way it should be, not dummed down for westerners. As such it was no surprise that we were the only foreigners here in a packed dhaba, but being that we were so hot from the Wagah ceremony we opted to sit in the A/C part. I'm not even sure we would have found it had we not have had Gurinder showing us the way.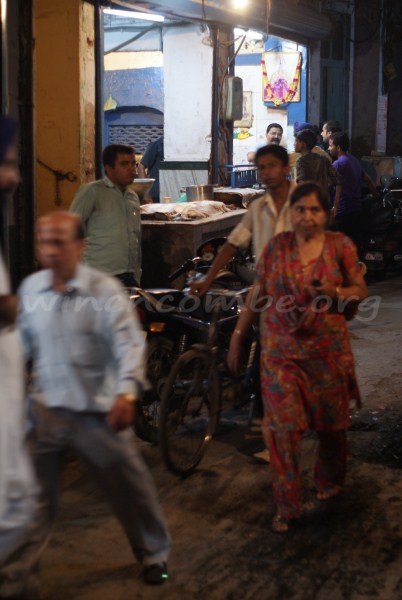 The view of Kesar da Dhaba from the dark street
In England the decor of this place could only be called a Greasy Spoon and a run down looking one at that. But just as books shouldn't be judged by their cover the Kesar da Dhaba food far outperforms the decor. This place is known for its Dal Fry, which I've also heard called Black Dal, or even Dal Makhani. However I make be making this bit up, I'm not sure.
The Dal Fry had to be one of our choices and also it was a given that we had Shahi Paneer as one of us has had this everyday so far. Aloo Gobi seemed recognisable, as did the rotis and chapatis, so we ordered these too. After asking Gurinder for advice on other dishes we ordered some that I can't remember the name of and didn't care for either.
Everyone in the restaurant was eating with their hands and I decided I'd follow suit even though I'd never tried before. It turned out to be relatively easy once I'd gotten over the strange feeling of the whole thing but just like using chopsticks some foods are easier than others. Guessing this beforehand I started on the Shahi Paneer as there's bit chunks of paneer to pick up, but moving on the Dal Fry with it's tiny lentils I gave up after most of it seemed to running down my right arm. That's the other thing, I'm left handed and eating with that hand is a big no-no, as traditionally – but not my me! – that hand is used for something else: I'll leave you to guess.
We'd ordered some rotis and I'd placed one on my plate but it went cold. It wouldn't have bothered me eating a cold one but the waiter wouldn't have any of it and replaced it with a hot one at no extra charge. In fact whilst we're talking about it the price of this place was so cheap and I paid Rs527 for everything including Pepsis, so that's about £7.50 for all of us.
The bill, showing that it cost Rs16 for four chapati, which works out at 5 pence each: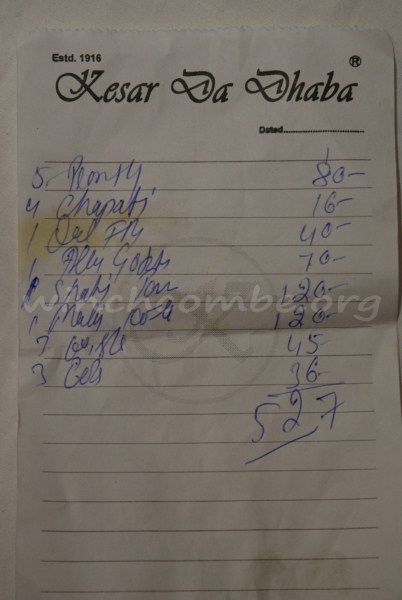 Here's some of the dishes we ordered: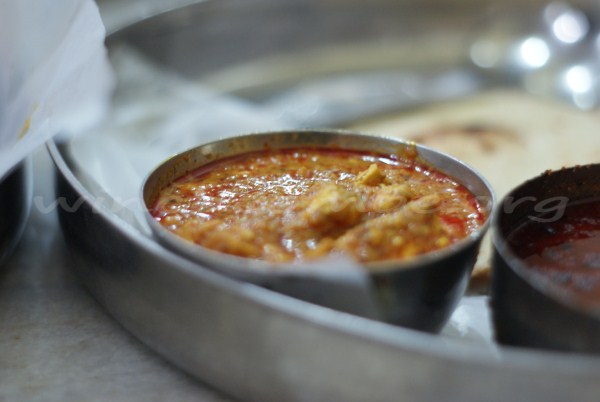 Shahi Paneer, the staple of our trip so far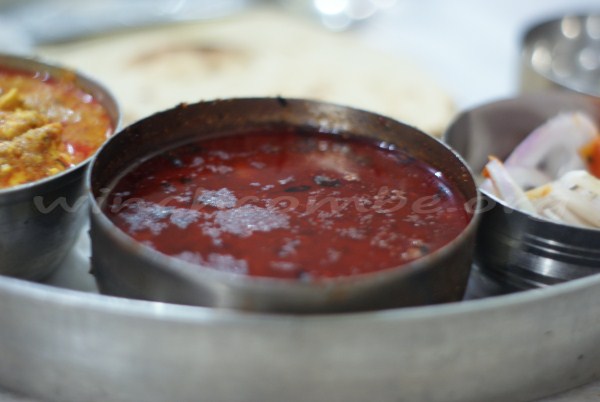 Dal Fry (aka Black Dal, I think!)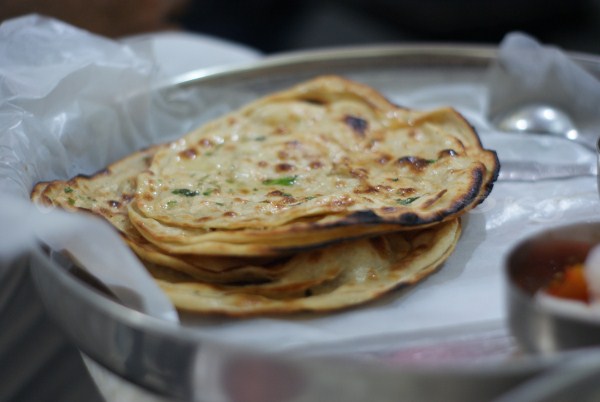 Lachha Parantha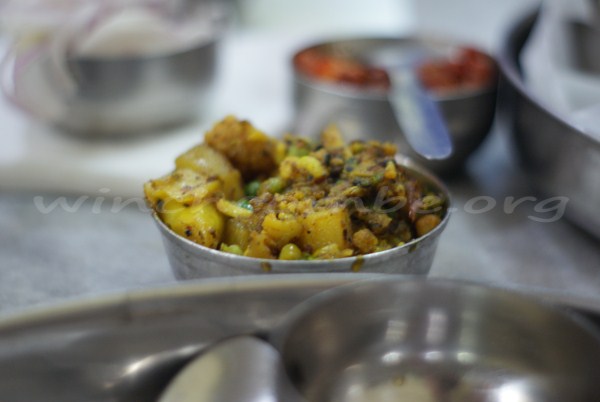 Aloo Gobi (aka Potato and Cauliflower)