Getting All Dressed Up At The 'Pick Up' Shop
on
August 12th, 2011
at
4:04 pm
The traditional clothing for ladies over here in India is either a Sari or a Salwar Kameez, the latter being a long blouse without buttons (the kameez) worn over a pair of leggings along with a dupatta (scarf). Sarees look beautiful but aren't so practical in the UK and look out of place on a westerner, on the other hand a Salwar Kameez just fits in perfectly.
With the girls and Jane all wanting an outfit or two we got the driver we'd hired for three days to drop us off in the muslim sector of the city which has wall to wall sari, silk and cotton shops.
Initially the main focus was finding something for Amy and this proved difficult as she's too tall for a child and too small to be an adult – although she towers above some adult women over here. Shop after shop proved futile until we happened to walk into the shop named Pick Up Collection which appeared to be ridiculously busy at the time; surely a good sign. As you can see from the picture the shop was just filled with boxes galore of sarees, kurtis, kurtas, salwar kameez and so on.
Amy and Emilia started looking a Salwar Kameezes – is that the right plural? – and found some they liked; some they didn't; some that cost £40; some that cost around £10; some in colours they liked but didn't fit;, some that fitted but they didn't like after trying them on; this went on for a long time. Jane too started looking but all the outfits they brought for her were between £30 and £40, value for money for sure but not a price she wanted to spend.
Emilia and Amy finally chose their outfits and typically ended up with exactly the same one, just blue for Emilia and pink for Amy. We decided some alterations were needed to both and the shop assistant called to "Master" – their tailor – who sat in the shop by his sewing machine making alteration after alteration after alteration at no extra cost.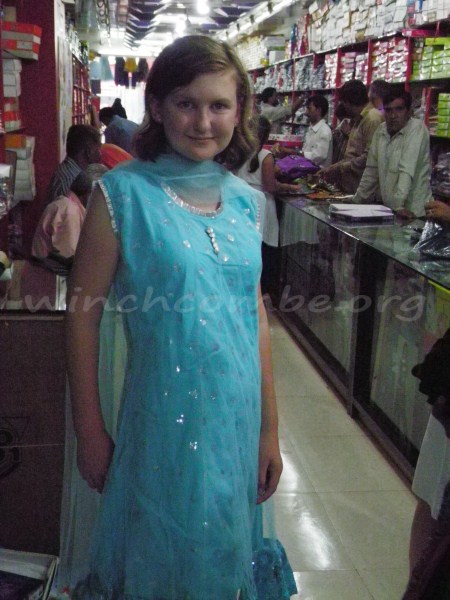 Emilia trying on her Salwar Kameez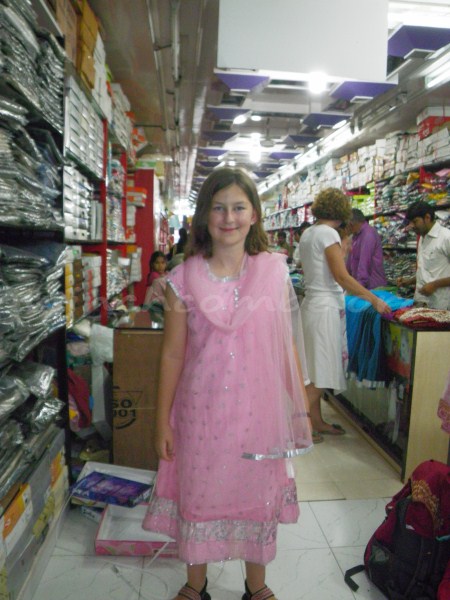 Amy trying on her Salwar Kameez
With Jane not being able to find anything suitable the assistant unexpectedly focused on me suggesting that I needed a Kurta, a very long top similar to a kameez that reaches the knees worn over a pair of leggings. Not a dressing up kind of guy I declined only to hear 'go on Dad' so many times I caved in, ending up buying this – although I'm just trying this on over a pair of shorts.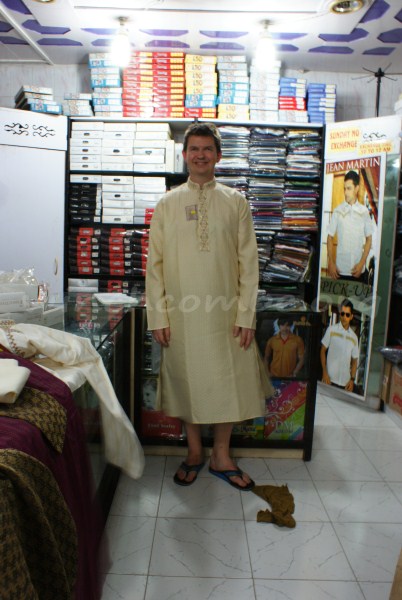 Finally Kev finds an outfit for those dress down days at work.
Whilst waiting for the alterations to be done for the three of us we watched an Indian lady buying some clothes. One of the ones she rejected caught Jane's eye and she was back in shopping mode in a flash, trying on stuff and eventually buying another Salwar Kameez. Unfortunately I haven't got a photo of her new outfit but here's one of her earlier purchases: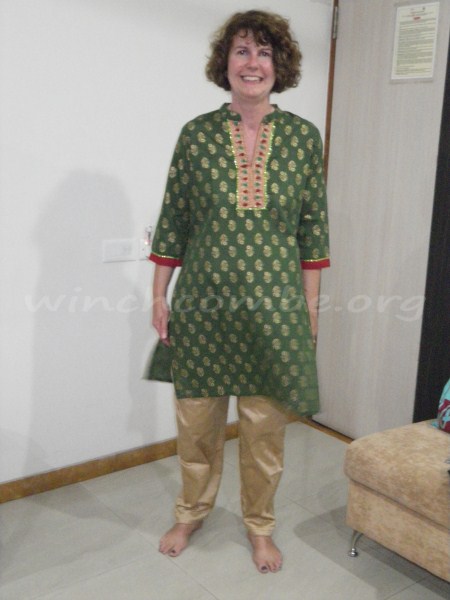 Jane wearing one of her outfits
Here's a little video of "Master" altering our clothes, within minutes of purchasing them:
httpv://www.youtube.com/watch?v=61qF2bzNEHk