The Hotel Grand Plaza in Hyderabad sits opposite the public gardens to the north of Nampally railway station in Hyderabad and a short walk away from the shopping area of Abids Circle and its collection of shoe, sari and kurta shops, not forgetting the bizarre shopping experience that is Big Bazaar.
Here's a link to Google maps for the hotel
Once again my friends Madhu and Savita's blog, 10YearItch.com, provided me with the details about this hotel and we liked it so much I also want to recommend it. It was a toss-up between this hotel and another recommended one, the Amogh Yatri Niwas, but in the end I decided that Madhu/Savita's advice had been faultless so far and the price of the rooms seemed a little better.
It's August and there's no real need to book rooms in advance so I didn't book this one, but on the train as we neared Hyderabad I went online and checked that there were still rooms there; there was. Arriving at the reception I requested two double rooms (Rs1249 each = £18) only to be told that only one was available and it was too small to get two extra beds into. They didn't seem to believe that I was able to almost book two rooms less than two hours ago and there'd been no arrivals since. Houston, we have a problem. They showed the excutive rooms which were double the price and suites that were even dearer. Finally they offered me one double at Rs1249 and one executive at Rs2000 (20% discount). These buggers are scamming me I thought.
I told them I'd have a cup of tea and decide what to do and quickly whipped out the netbook and reserved two rooms, bar actually paying for them. Taking the netbook back to reception and showing them my 99% booking I asked them to explain how they had two doubles available online. Perplexed the head manager stepped in an offered me two executive rooms, one at Rs2000 (Rs500 off) and the other at Rs1249 (Rs1249). Finally, we had a deal.
So, our time at the hotel didn't start too well, but that was where any issues finished, after that we found that it was a great hotel. The rooms, being executive rooms, were quite large, having a table and chairs, TV, A/C and a bathroom which actually contained a bath, the first bath we've encountered on this trip.
We ate lunch in their restaurant, opting for a-la-carte even though they had an all-you-can-eat-buffet available and the food was really good, even being delivered with a smile from their courteous waiters.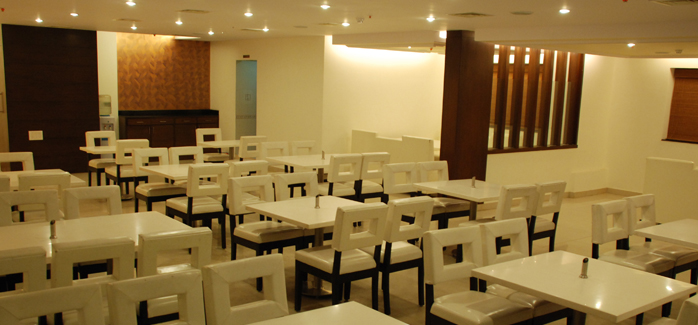 The restaurant
As we found the food really good we decided to eat there in the evening too and I decided to blow the budget on a Full Tandoori Chicken, just for me. For some reason it didn't occur to me that this would actually be a full chicken, but regardless I let Jane have two pieces and I polished off the rest. Yum.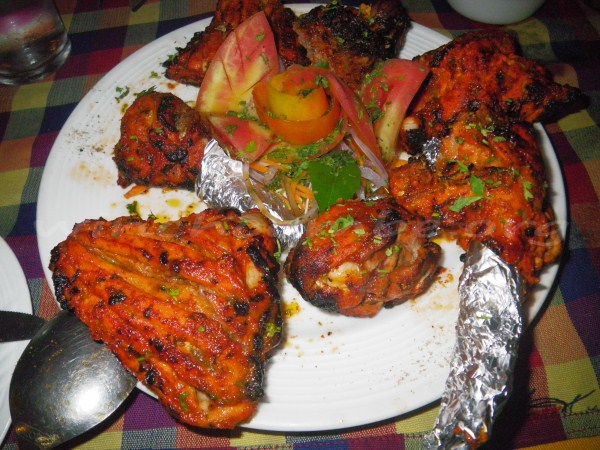 Tandoori Chicken (Full) minus a piece I'd already tucked into, only £3
Being so impressed with the restaurant we didn't bother trying to find somewhere else nearby: the value was good; the food was good; the seating comfortable; the waiters were professional and attentive.
In fact everyone at this hotel was so professional it felt like we were staying in a hotel that would demand far more than the Rs1249 of their cheapest double room, especially as breakfast was included in that price.
I think the best way I can compliment this hotel, apart from this article, is to say that whenever I come back to Hyderbad I won't bother looking anywhere else. If you're looking for a hotel in the Rs1250-Rs2500 I'd suggest you check this place out.