If I had to answer a question on what's been the best part of the trip so far then I'd have to say that spending time with people I've known online for a while, met through friends of theirs or the residents of the homestay would have to top the list. These are pretty strong words when you consider that we've so seen many sublime places like Ajanta, Ellora and especially the Golden Temple.
Yesterday we managed to meet up with one my fellow moderators on IndiaMike who wanted to show us the different sides to our current location, Hyderabad. Whilst a very social person he also appears to be a private man so I'll refer to him as Mr S in this article. Picking us up in the afternoon Mr S's driver showed us some of the sights as we headed to the old city as the girls wanted to buy some bangles. The traffic at points was just mad, I'm so glad I'm not the one having to drive, although perhaps it would be fun to have a go, just not with my own car.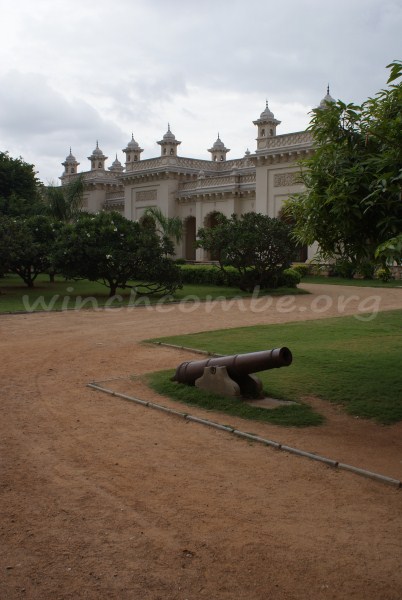 The Chowmahalla Palace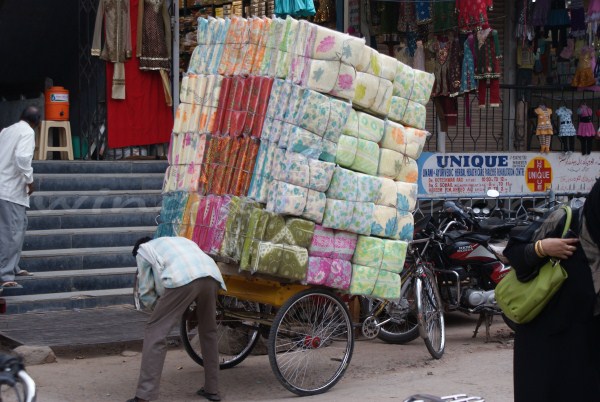 It's amazing what they carry on their bikes
Arriving in the thin alleyway filled muslim area we found the best bangles we'd seen so far on the trip, Emilia finding some stunning ones which matched her new Salwar Kameez and her eyes. Mr S took control over the negotiations and reduced the price far lower than I'd have ever got it and turned my money away when I tried to pay: Emilia's a very lucky girl. Jane spotted some bangles too at a different shop but the starting price was high at Rs1000 (£15) and Mr S was called in to handle negotiations once more, yet again making sure my money stayed in my pocket. At a shop nearby I was forced by the girls to try on some shoes which a traditionally worn on wedding days but unfortunately (!) they didn't fit me. Phew!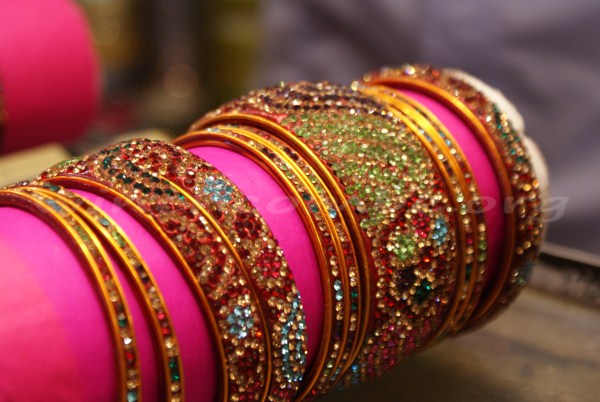 Some bangles that caught the girls' eyes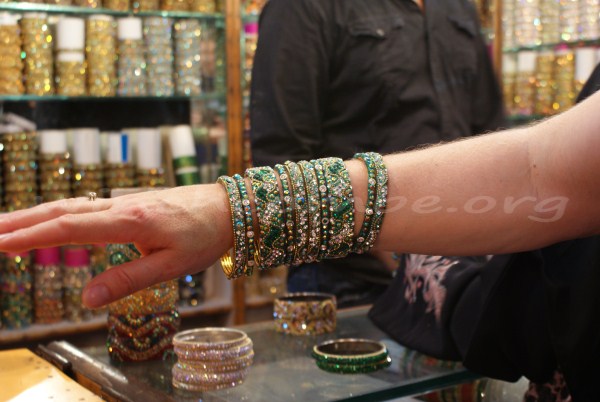 The bangles Jane got
Leaving the market behind we set off to visit Mr S's house, located in the upmarket area called Banjara Hills. The house sits near the top of the hill and is surrounded by houses owned by Chiefs of this and that, politicians and the like. The property prices here rival those of London. Taking in drinks and snacks on the rooftop, watching the distant lightening we spent a great hour or so having a chat.
Mr S passed the phone to me to have a chat with one of the IndiaMike regulars, a lady whom everyone loves. We had a lovely chat but it's such a shame that I'll have to ban her from IndiaMike when I return for being rude about my lovely new green Punjabi t-shirt, yeah, the one I seem to be wearing in every photo! She said I needed to get a new one and I described my latest t-shirt but still it was no good and it appears I need to look for a Bengali based one. (I'm joking about the ban of course, but maybe a minor infraction if she ever steps out of line 🙂 ).
We'd planned to go out for some biryani but Mr S had been invited to go out to dinner with his cousins as it was the festival of Raksha Bandhan where brothers and sisters get together and celebrate their relationship. A quick call and the okay was given for us to attend too. Before leaving the four of us got changed into the outfits we'd bought the other day.
The very popular Mr S's mobile phone rang for the hundredth time and it was his friend and ours, the guy we visited in Gurgaon in the Indian Hospitality – Part II article. We had a lovely chat, sharing some laughs as we always do.
Mr S wanted to show me every side to this city so we did a quick tour of the area known as Cyberabad, past the offices of Microsoft, RBS and other major multinationals, past Porsche showrooms and other high end stores. We could have easily have been in the US or London.
On to the restaurant where we met some of Mr S's relatives. The restaurant was still within the upmarket area of town and there we were wearing or more traditional clothes whilst all around us were wearing the latest fashions in jeans and designer tops.
During the evening we drank, we chatted – although still no-one really wanted to talk about cricket what with England beating India at the moment – and ate some lovely food, some biryani and some spicy shredded lamb that was just gorgeous. We were made to feel so welcome, everybody keen to hear where we'd been, what we'd seen and where we were going next. We had a great time. I tried to keep an eye out for the bill to pay my share but perhaps it was no surprise that it never ended up anywhere near me.
Mr S, if you're reading this, thank you so much for a wonderful time, we really enjoyed ourselves.