Lakshmi Heritage Tourist Home, Hampi
on
August 17th, 2011
at
6:38 am
In some ways I didn't want to stay at this place, a place my friends Madhu and Savita – of 10yearitch.com, but you know that, I've said that once or twice before right? – had recommended. I wanted to be responsible for finding somewhere for myself.
Arriving in Hampi Bazaar went went here first, to use it as a benchmark. The price seemed quite reasonable at Rs2000 for two rooms, both with air conditioning and river views, well sort of, you can see the river from the window. The rooms have 24 hour electricity via battery backup and the most comfortable beds anywhere on this sub-continent.
Off to some other properties and we preferred what we saw first. The Garden Paradise occupies possibly the best location but it's unsecurable straw huts at Rs400 per night, didn't meet with Jane's approval and given the luggage we've got I wasn't so happy either; the Kiran Guest House, was fine at Rs300 but looked a run down, although just like the homestay that we adored in Orchha; Rocky's at Rs500 seemed fine too, it's right between Lakshmi and Gopi but rooms seemed dark; the Archana had two blocks and is closer to the river than Lakshmi and it's rooms were between Rs500 and Rs800 but it just didn't have the vibe.
So I could have saved a lot of money; I could have had a much better view; I could have gone somewhere with it's own restaurant; I could have saved £20 a night and only spent £8.50 for two rooms!; but we'd fallen for the Lakshmi Heritage so I left a deposit and we returned the next day for our three day stint.
Our room was tastefully done up using pine-like boards – it wasn't pine I'm sure of that but what do I know about wood? (nothing!) – to decorate the whole place. An LCD TV stood silently in the corner of the room, and behind the bed was a mirror second only in size to the one above Ron Jeremy's bed (I guess, I've never been there, honest).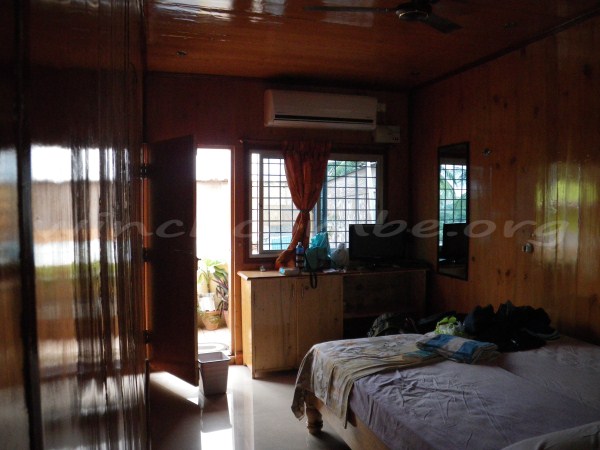 Ron Jeremy's old mirror a fixed behind the bed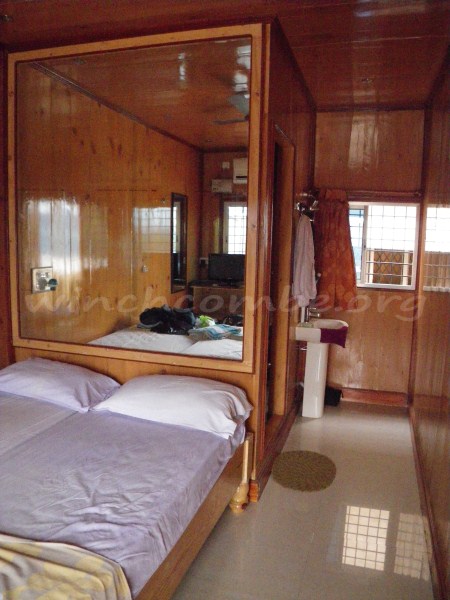 Our room, before we wrecked it too much
The landing to the three upstairs rooms, two of which we've got, the kids and one end and us at the other, is outside and prone to a bit of rain should it occur.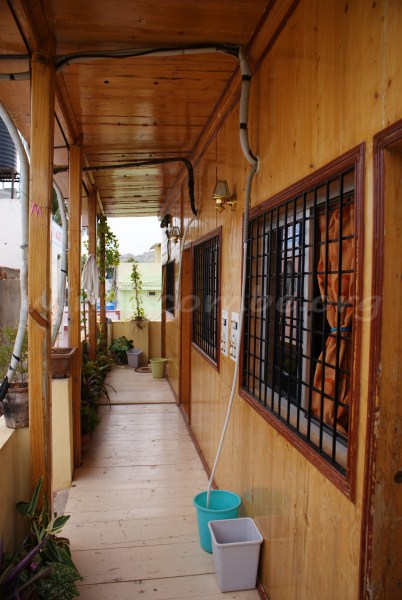 The landing/hallway outside the three rooms on the top floor, two of which we rented
Not that I'm into taking photos of showers and stuff but I thought this one had to be the best of all the guest houses in Hampi Bazaar area.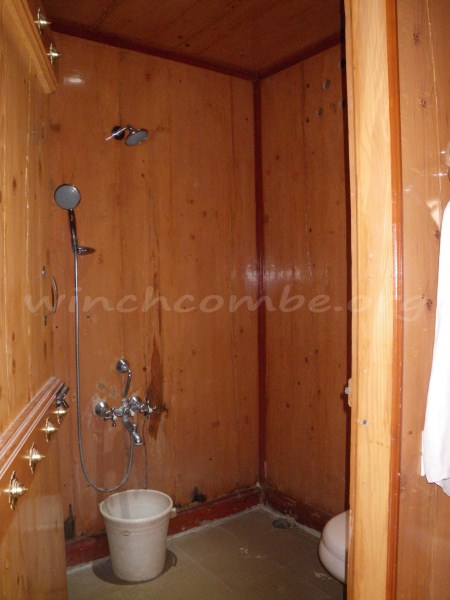 Above our rooms is the roof, which has some chairs and blankets you can sit on to while away the hours.
Here's a video of the view from the rooftop, although I guess the other guesthouses will build higher in the future:
httpv://www.youtube.com/watch?v=-zJ7OKYYBvQ