After rejecting the awful Silver Sands hotel after just a couple of seconds I did the rounds of some other hotels that I'd read about in the various guides. First it was off to Soul Vacation, an upmarket place where they only had one room big enough, a suite at Rs4000 a night, that's £58 and a little over my budget. It had a pool but one the size of a postage stamp.
Moving on to Graciano Cottages where a room for all four of us was just Rs1500, that's £21 and a good deal, but it was run down, dusty, smelly and had no pool.
Almost next door was the Skylark Hotel, a family-run hotel owned by an English lady and her husband, although they're off travelling with their family at the moment. Joseph the manager showed me around the small hotel and opened the door to the clean, large room with a four poster bed. I was sold. We did a deal for the room at Rs2700 including all extra beds and taxes but I had another hotel to look at first.
The Colmar Hotel looked like it could be the right one as it's right next to the beach, has a pool and has cottages in the grounds. When I got there it appeared that it was busy with workmen and very noisy Indian holidaymakers, hardly the peaceful retreat I was looking for so I didn't even go in.
So the Skylark it was.
Arriving at the hotel I did the deal with Joseph, the day manager, for two nights only and he showed us to our room, room number 1. We were the only ones here so the pool was ours, just ours. 🙂 Jane and the kids were delighted with my choice and we unpacked before going for a swim.
It didn't taken long for Jane and I to start discussing altering our plans to stay in Goa as long as possible and cut out Mumbai, but re-arranging it so we can still get to Mumbai should our 13 hour train get cancelled.
Off to a nearby cybercafe and I managed to get a train one-day later, leaving tomorrow on the 23rd at 08:30, arriving 15 hours before our plane departs, which gives us 28 hours to get to Mumbai if the train gets cancelled due to the monsoon, although I hear it's unlikely this late in August. So we're staying for three nights and effectively our holiday ends here. Today.
To anyone looking for a hotel in Colva I don't think you can go far wrong with the lovely Skylark Hotel.
Here's some photos of the hotel, pool and grounds: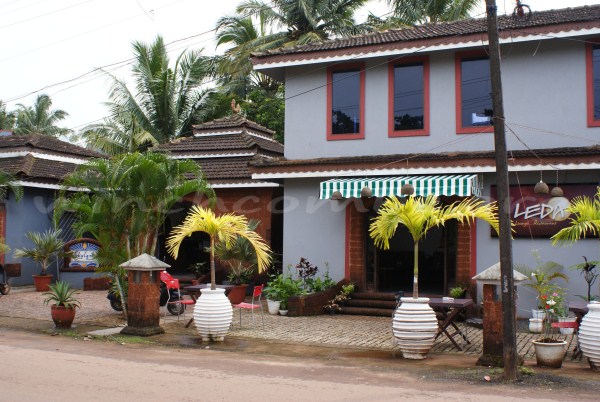 The entrance (red building) to the Skylark Hotel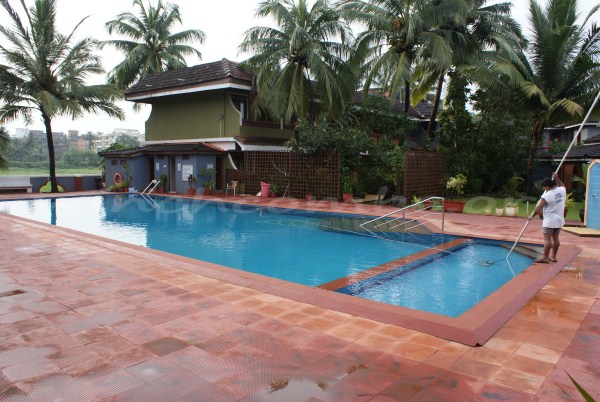 The pool and the non-AC block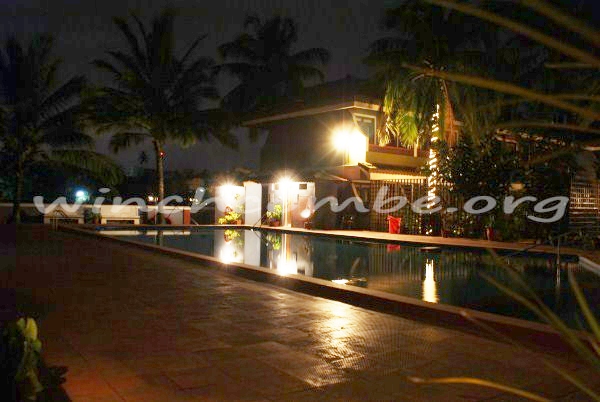 The pool at night time