Homestays, A Very Different Side To Life
on
August 6th, 2011
at
5:11 pm
The room the owners of my homestay live in is no bigger than the room Emilia and I are occupying, yet we've only got a couple of rucksacks filling the space, although in typical Winchcombe fashion everything's scattered to fill the void well. We've got beds, we've got mosquito nets, we've got electrical sockets, a huge ceiling fan and a bin – okay a bin doesn't sound posh but in some parts of India it seems a new idea.
Five people, all their belongings and equipment (cooking, eating, playing, clothes) are housed in our hosts' single room. The table at the end of the room doubled as a solid bed for the parents, a table to play on and many other things. Sitting and eating is done on the dusty concrete floor. Around the sides of their house are their prized possessions; pictures of family and people that had stayed there; clothes and bangles were packed away in nooks everywhere.
The stove is in one corner near the doorway but there's no chimney so if the wind is blowing in the wrong direction the house fills with smoke. Near the stove there's place for Malti to sit whilst preparing and cooking, and just beyond is where the firewood is kept drying during the monsoon. A single rickety old fan sits on the side and is powered by two individual wires, that are just pushed into a socket. A single light barely illuminates the room – although there's also a very loud TV which can't seem to lock on to a channel but it does at least light the room too.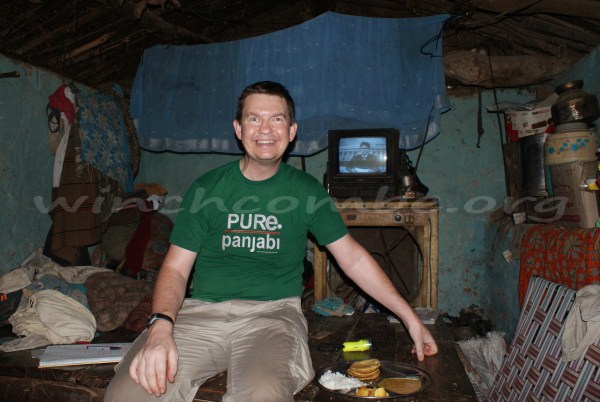 Kev sitting on the multi-use table/bed with the TV in the background.
It's hard to describe just how hot it was in that house but I think my shorts tell that story well.
Please note: that t-shirt has been washed a few times…I just like it!
We'd given Malti lots of clothes that no longer fit Amy, hoping before we arrived that she had girls, but both she and Kusum – the host for Jane and Amy – both had three boys each, no girls. As I opened the two huge bags of clothes for Malti – there were also two bags for Kesum – her eyes filled with joy. Arun her youngest was nearby and I beckoned him over to see if one of Amy's old, but still good quality, t-shirts fitted; it didn't but he was as pleased as punch to receive it. A local girl was called round to try on Amy's old school dresses and her smile stretched from ear to ear. Kusum's son Manoj wore Emilia's old school trousers to school today and also seemed very pleased with his new clothes.
We'd also bought stuff to write, draw and crayon with and a couple of games too but the best present seemed to be the bat and ball set we'd bought in England for just a couple of quid.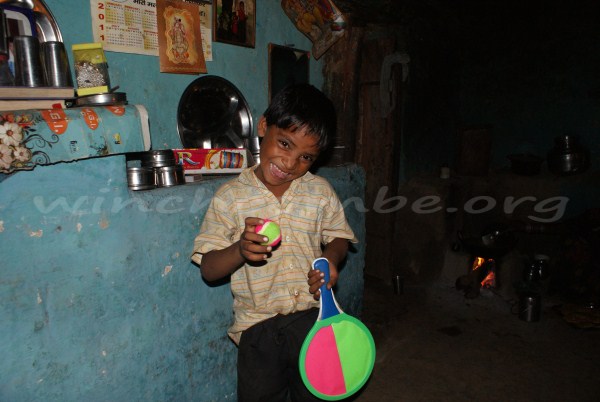 Arun, happy with one of his gifts
We helped the children speak and read English and they tried – but failed, our fault not theirs – to teach us some Hindi. I showed the kids how to use my camera and then they spent ages taking lots of photos, most of which were pointed completely in the wrong direction. Amy played endless games with all the children, some they taught her, some she taught them, language just wasn't a barrier to them at all.
Life just seems so much simpler here, they all appear very happy and I'm sure it's not skin deep. Would I want to be in their position? No way. But how often do I see people in the UK who have the same smile in the evening that they woke with. Never. Here, it just seems the norm.
If you ever have the chance to stay here, go for it, you won't regret it, unless of course you want posh cutlery and five-star luxury. I can't recommend the Friends of Orchha highly enough, the work they're doing is great, so visit their site and book yourself in.