Off to Gwalior
on
August 5th, 2011
at
12:22 pm
Delhi disappears into the distance along the train tracks as we head off on our first sleeping class train – the previous two have been day time Shatabdi trains – to Gwalior, a city which certainly isn't on the standard tourist path but could easily be if it promoted itself a little more. It's got a lot going for it but unfortunately we've only got time to see its famous fort which towers over the city. At least we thought we'd have time to see it.
The train ride was relatively uneventful for us but a lady in the berth near us allegedly had her handbag stolen. I think she probably left it in the toilet when she went to get changed though as I was right next to her berth and saw no-one get anywhere near.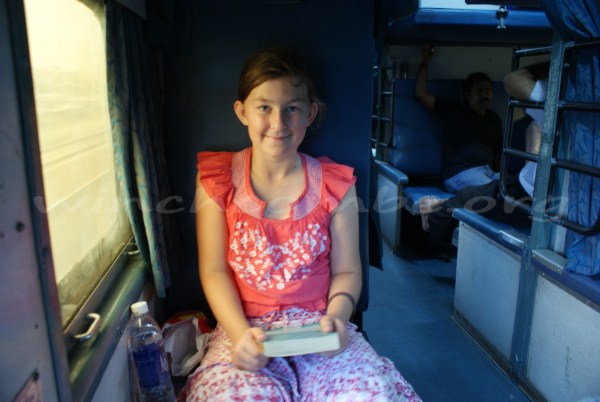 Amy on the two-tier air-con (2AC) train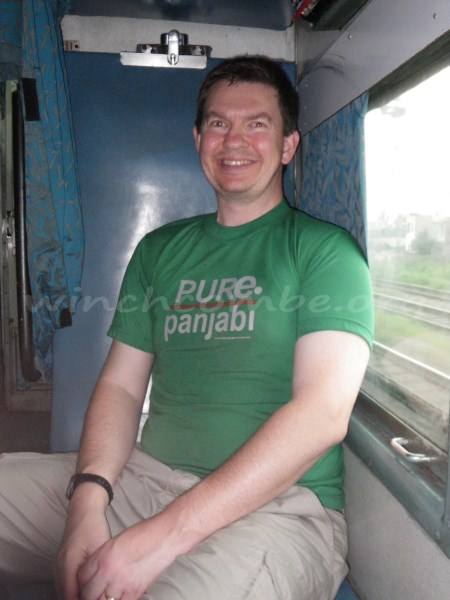 Kev on the train wearing his new t-shirt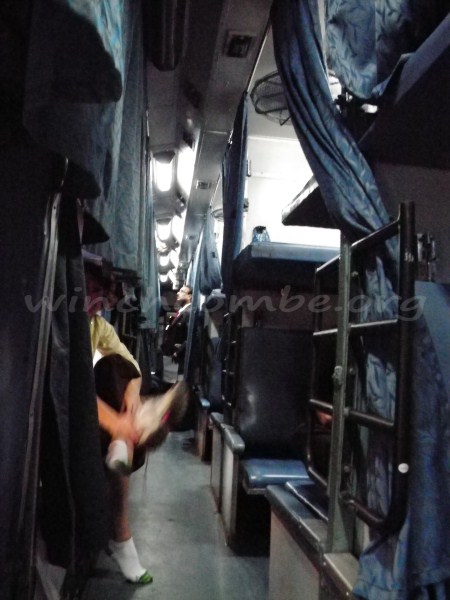 Inside a two-tier air-con train carriage
With a lot of bags to carry and an uncertainty of just how to get off the train we kitted up far too early and stood with our weighty rucksacks on for 15 minutes. Disembarking was easy, so much easier than before when we used suitcases.
Off in the taxi to our chosen hotel, the tourist development corporation's Tansen Residency I asked the taxi driver how much it would cost to the fort and back. "800Rs" he said, I laughed, as did the hotel receptionist who told me it would be 100Rs for an autorickshaw so probably double for a taxi, therefore 200RS maximum.
Time to do a little blog updating using the hotel's office computer where there was cash and keys lying around and I also had access to their hotel files on that computer – seemed a little like a security threat to me!
Heading outside we hail an autoricksaw and do a deal for 200Rs including two hours waiting time as the hotel said the fort's open til 9:15 p.m., it's currently 6 p.m.. We eventually arrive at the top of the fort about 6:45 p.m., viewed the outside of the fort and the city below before deciding to go in and view the fort's interior.
Reaching the ticket office we found it was closed already, shortly before being told by a security guard to leave. We could have stayed if we'd purchased tickets for the Son-et-Luminere (Sound/Light show) but we were tired and it didn't start until 8:30 p.m. At least we got time to take some photos of the towering fort walls.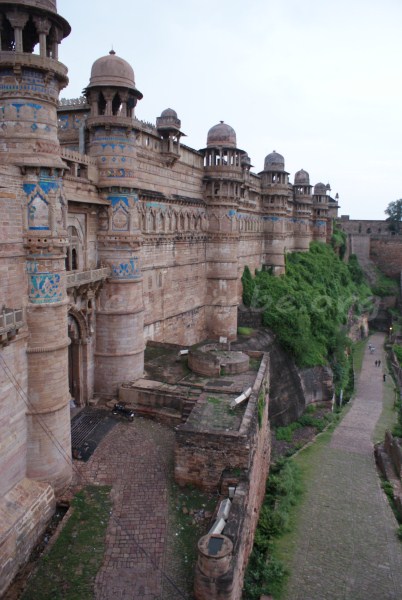 Gwalior Fort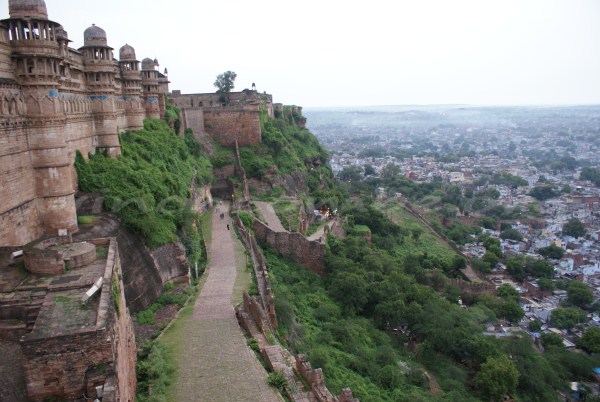 Gwalior Fort and the city below
We laughed about the fact that we'd only stopped at Gwalior to see the fort and in essence it cost us £50 more to break the journey there than if we'd gone directly to Orchha, the next destination.
Arriving back at the seemingly empty hotel we went and had dinner in it's restaurant which was completely empty bar us. Thirsty as hell I disregarded the menu the waiter handed to me and went straight for the drinks menu, for the first time on this holiday. A smile formed when as I found the cocktails page and as they were only £1.25 I thought there's no better place to start ordering. Emilia ordered a mocktail Chocolate Delight but it was a little sickly.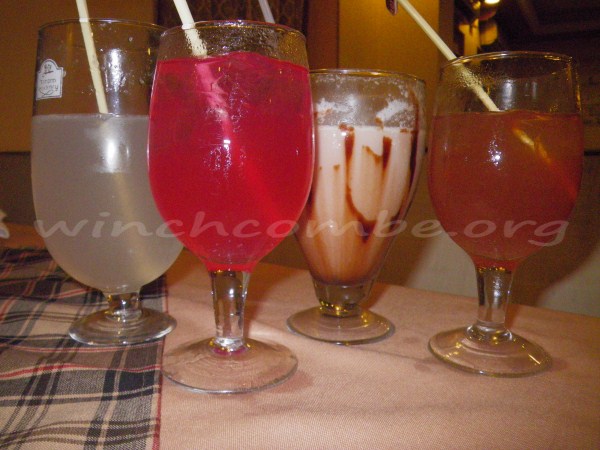 Cocktails, Mocktail and Lime Soda
The Tansen Residency's hotel management seems very efficient, their staff very courteous although quite hard to understand. The food arrived and all tasted great although Amy's Biryani was far too hot for her: she's now announced that she doesn't really like Indian food anymore. Great!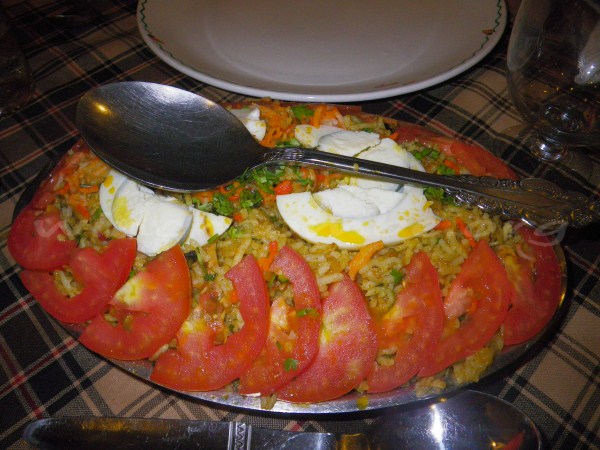 Biryani, mmmmm
One of the dishes made me laugh when it arrived as I recounted a tale told to me by a work colleague, Scrubby. He told me that at a restaurant in Portchester, England his wife had ordered a curry and when it turned up there were cerry tomatoes on/in it, until that is she bit into one and it turned out, bizarrely, that it was a Glace Cherry. Well Scrubby, this picture's for you: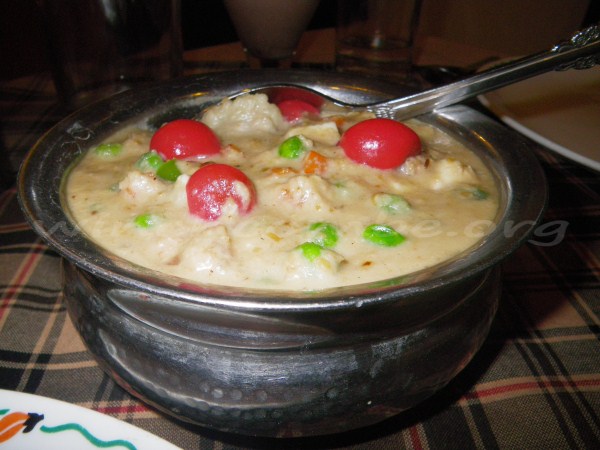 Glace cherry anyone?