The Day We All Got F.E.D.
on
August 3rd, 2011
at
5:23 pm
Last night we became temporary members of the Food Enthusiasts of Delhi, or FED for short.
The FEDs are organised by a guy named Shashank, whom I've got to know on the Internet – yeah, yeah, I know what you're thinking, it sounds dodgy! – over the last year or two. As the name suggests the FEDs are people who are passionate about their food and they're passionate to try restaurants week after week to find the best that Delhi has to offer.
It'll be no shock to people that know me to realise that I was always likely to get along very well with a group of people that adore food and love to meet up to try new dishes. Throw in some photography, a blog and a bit of Facebook and we were always onto a winner.
The FEDs have a web site and also a page on Facebook that I've been following for a while, every week tantalised by the pictures Shashank had taken of the previous FED meet up.
Often the FEDs go on a "food walk" where they pick a few places in a particular area to go to and then they sample the delights on offer. Other times they do a "raid" on a particular restaurant and sample pretty much everything on the menu. One such raid that grabbed my attention was the cheesecake raid where they ordered every type of cheesecake as a starter: how I would have loved that one.
I guess we attended something more like a "raid" but it was a very civilized one and boy oh boy there was plenty of food. For me this event was a great opportunity to meet another of my Facebook friends, Yogesh Sarkar, who runs many web sites, especially BCMTouring.com, which is a great site for anyone who's thinking of going to Ladakh as we were originally. Yogesh is also a very good photographer as his pictures testify.
The restaurant, Swagath, is in the Defence Colony area, an area which didn't look like a likely source of eateries, but out jumps restaurant after restaurant. Swagath clearly sits at the higher end of some of the places on offer and it is one of the few restaurants in this landlocked area that specialises in Mangalorean sea-food. Excitedly we were the second bunch of people to arrive and were greeted by Manish, a charming IT/BPM specialist working for a government organisation – sound familiar (apart from the charming part)?
It's time to start ordering the food up and Shashank and a few of the South Indian food experts start ordering plate after plate of starters. Huge tiger prawns didn't last long, the pomfret was gorgeous, so many dishes that I stood no chance of remember the names. It's hard to gauge just how much was ordered but it was LOTS – yes I'm shouting because it was LOTS.
Sufficiently full from the starters the guys then order the main meals, with multiple paneer dishes, the strangely named but nicely spiced Chicken 65, roasted ghee dishes, squid, crab, the list went on and on.
Our resident blogger Shashank always took photos of each dish before people started digging in and it didn't take the waiters long to realise just who they should give each dish to: Shashank. Strangely he didn't want to take a picture of my lime soda before I drank it 😛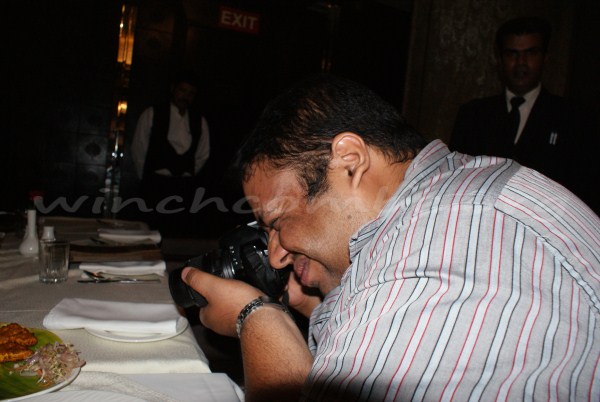 Shashank takes a photo of one of the dishes served.